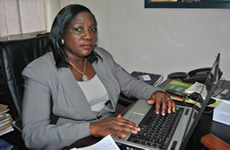 The Department of Planning Technology Transfer and Information Management is poised to provide effective planning and management of market-driven cutting-edge research, promote and demonstrate FIIRO R&D activities, transfer the resultant developed technologies,protect the intellectual property of the Institute and provide scientific and technical information to industrialists, entrepreneurs, students and other relevant stakeholders.
These are achieved through effective co-ordination of highly qualified, well motivated and resourceful workforce.
VISION STATEMENT
To be the Department of excellence in promoting FIIRO to the world in order to achieve Industrialization through Research & Development
MISSION STATEMENT
To position FIIRO in the global limelight through knowledge management, monitoring and evaluation of Research activities, information processing and dissemination and Commercialization of FIIRO's Research Breakthroughs
STRUCTURE
The Department is made up of four (4) Divisions:
CONTACT THE DIRECTOR
OYEDOYIN BOLANLE OLATUNDE; PhD
DIRECTOR, (Planning, Technology Transfer & Information Management Department)
Federal Institute of Industrial Research, Oshodi (FIIRO)
P.M.B. 21023 Ikeja, Lagos, Nigeria.
e-mail:This email address is being protected from spambots. You need JavaScript enabled to view it.; This email address is being protected from spambots. You need JavaScript enabled to view it.
Phone No: +2348023402117, +2348186517503